Dr. David Chao, On the Labral Tear of Fernando Tatis Jr.
Posted on 22nd April, 2021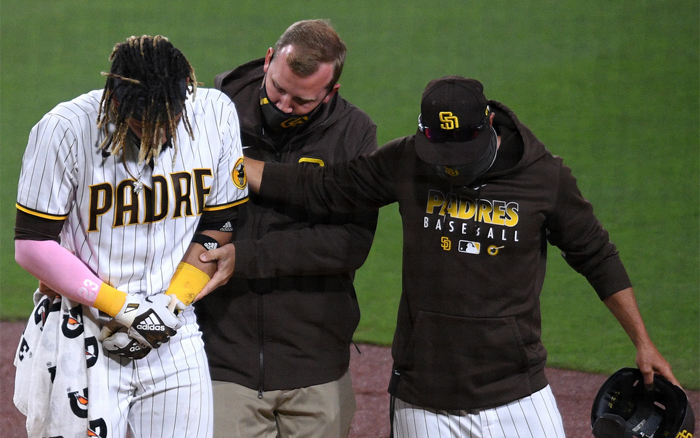 On April 4, 2021, professional baseball shortstop and outfielder for San Diego Padres Fernando Tatis Jr. - also known as "El Nino" - left the game with a left shoulder subluxation, which was the same injury he had sustained roughly two weeks before, during Spring Training.
The shoulder subluxation, which also entails a labral tear, was visible to everyone as Tatis corkscrewed himself on a big swing and then sprawled down to his knees, grasping his shoulder.
The San Diego Padres superstar partially dislocated his left shoulder on at least four occasions last year, and, as a result, he spent two stints on the injured list that season.
Each dislocation makes a future complete dislocation more likely. However, Tatis seems unlikely to choose to undergo surgery, a decision that, while it is not final, is based on the baseball player's belief that his shoulder is stable and will hold up moving forward.
"I feel like I'm in a great spot, my shoulder is in a great spot," Tatis said. "I feel very secure with where I'm at," he added. Still, Dr. David Chao, who was a former team physician with the San Diego Chargers for 17 years, believes that surgery is ultimately inevitable in Tatis' case. The orthopedic surgeon has vast experience in treating athletes and professional sports players in general, as he has also worked with:
Minnesota Twins
Chicago Cubs
San Diego Chargers
Why Tatis' Labral Tear and Shoulder Subluxation Will Need Surgery
With a shoulder subluxation, most people usually experience a labral tear as well, which, in most cases, requires surgery. Recovery from a procedure meant to stabilize the shoulder and repair the labral tear takes approximately 5 months. If Tatis were to change his mind, the start of his 2022 season would most likely be canceled. Nevertheless, according to more recent news, the baseball player will not undergo surgery for his subluxated shoulder during the offseason.
According to Dr. David Chao, the San Diego Padres knew about Tatis' shoulder injury, yet they still offered him a $340 million contract. He has been playing through the injury over the years, but it comes and goes. The main concern, according to the orthopedic surgeon, is that it has come twice in 2 weeks on routine plays, and the rule of thumb in the case of shoulder subluxation instability is that the easier it dislocates, the more often it will happen over and over again.
Furthermore, Dr. David Chao believes that, to assess how severe the labral tear is, Tatis will probably have to get an MRI scan. If it got bigger since his last visit to the doctor, his guess is that the San Diego Padres will shut him down for the season. On the other hand, if it has not worsened, he will likely continue to do physiotherapy and see if it can get him through the year. If he decides to have surgery, it will take 6 months to recover, according to the orthopedic surgeon, and he will be done for the season.
"I think it is inevitable that surgery is in his future," said Dr. David Chao. Unfortunately, for now, Tatis has to live with the injury and fear that it might get worse with each game he plays. For this very reason, he was moved from shortstop to right field to protect the shoulder when he returned following his third absence. On November 12, 2021, Bob Melvin, the manager of the San Diego Padres, announced that Fernando Tatis Jr. will not undergo surgery for his shoulder and play that year as he did last year.
What a Labral Repair Entails
The shoulder joint has a perfect combination of mobility and stability. One feature by virtue of which people have this unmatched bodily versatility is a ring of cartilage medically known as the labrum. The labrum is attached to the shoulder socket and helps keep the ball of the joint in place. Some of the most common causes of a labral tear are:
a fracture
a dislocated shoulder
overuse
repetitive motion
This injury can be a superior labral tear from anterior to posterior (SLAP) or a Bankart tear. Some types of labral tears can increase the risk of shoulder dislocations. In a SLAP injury, the top part of the labrum is injured, whereas, in a Bankart tear, a tear occurs in the lower region. Luckily, arthroscopic surgery is available as a minimally invasive treatment for both labrum injuries.
During a labral repair, the orthopedic surgeon examines the damage inside the shoulder joint using the arthroscope, which is inserted through a small incision in the shoulder. They will clean up any scar tissue and rough edges of the labrum and prepare the bone. Finally, the surgeon re-attaches the labrum to the bone. This is achieved with special implants known as suture anchors. The greatest benefits of undergoing a labral repair arthroscopically are the following:
less tissue damage
shorter recovery time
less scarring
Untreated Labral Tears Can Have Irreversible Consequences
Limited, sometimes painful range of motion and noticeably decreased flexibility, and persisting stiffness or tenderness in the shoulder joint are the typical symptoms of a labral tear. While in mild cases, the labral tear can heal with non-invasive treatments such as ice, rest, physiotherapy, and anti-inflammatory medication, in more severe cases, the patient will need surgery.
The biggest concerns regarding a labral tear left untreated are the tear not correctly healing on its own, which will rob the person of mobility, make them more susceptible to osteoarthritis, and lead to chronic pain and discomfort. Consequently, if someone suffered a shoulder injury, it is crucial to seek medical attention immediately so as to know how severe the injury is and what treatment approach is the most effective.